Alleged ballot traffickers taking pictures on their ballots as they deposit them into drop boxes- payment scheme?
By Jim Hoft – Gateway Pundit, Published September 4, 2022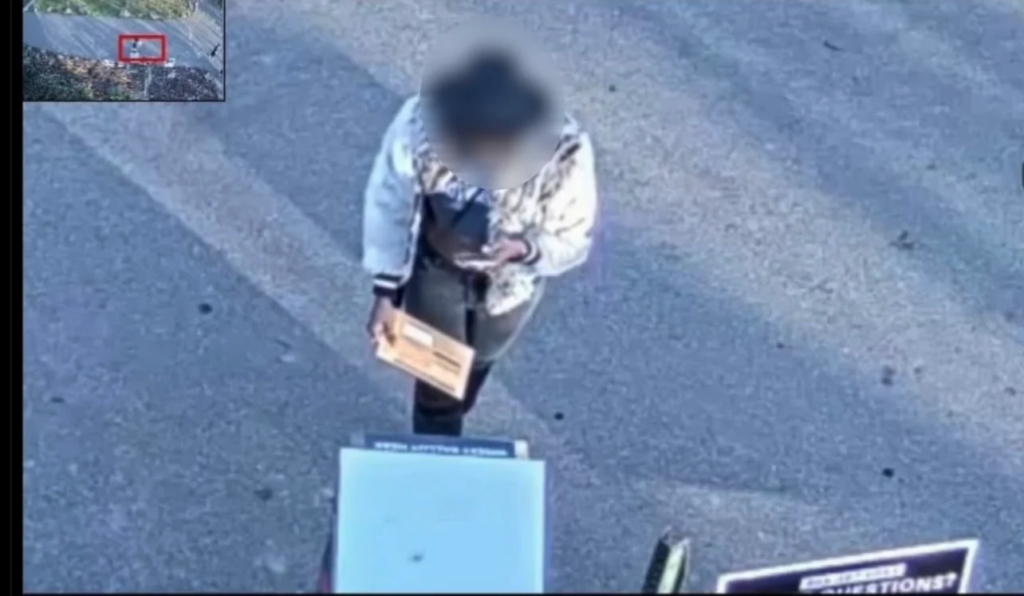 Democrats refer to ballot trafficking as a right-wing term. They assert that Republicans conflate the term with ballot collecting. Ballot collection is simply returning ballots for others. Ballot "collection" is allowed in 31 states with some limitations depending on the state. Some states designate that only the voter must return the ballot. Others permit a family member, household member or caregiver to return the ballot. Some states limit the number of ballots an authorized person can return.
So, when does ballot collection turn into the pejorative term known as ballot harvesting? And how does this differ from ballot trafficking?
Ballot Harvesting:
Limitations on ballot collecting are "based on the concern that saving people the task of returning their ballot can bleed into encouraging them to vote a certain way." This "bleeding" can occur when political operatives, campaign and union workers collect absentee ballots from voters homes. Third parties who have a stake in the outcome of an election is a proven threat to election integrity when they collect absentee ballots in an unsupervised setting. It is a proven recipe for voter intimidation, coercion and fraud. The Heritage Foundation's database includes instances of proven fraud involving ballot harvesting such as the following:

Former Mayor of Martin, Kentucky, Ruth Robinson who was convicted of voter fraud in 2014 for threatening and intimidating poor, elderly and disabled citizens into casting absentee ballots for herself.
Former Mayor of Eatonville, Florida, Anthony Grant who was convicted of coercing absentee voters to cast ballots for him in 2017.
The infamous North Carolina 9th Congressional District election of 2018 was overturned due to ballot harvesting.
Former Mayor of San Luis, Arizona, Guillermina Fuentes, was indicted in December 2020 for ballot harvesting in which she acknowledged that she persuaded voters to let her gather their ballots and fill them out.

So, innocuous-sounding ballot "collection" turns into "harvesting" when voters are pressured, intimidated, or coerced to vote a certain way. Or, if the return envelope was not sealed, ballot harvesters may vote a ballot that was not completely voted. Or, they may simply throw ballots away which did not have the "correct" vote. Ballot envelopes may have been steamed open and new ballots inserted which is why some envelopes wouldn't easily reseal and had to be taped.
In 2021, at least 14 states have enacted laws that prohibit ballot harvesting.
But, what about ballot trafficking? How is that different? When you pay someone to collect ballots, it is ballot trafficking and it is not legal in any state.
Ballot Trafficking:
The following ballot trafficking schemes, among others, have been reported:
The question then arises, how might a ballot trafficker prove that they had procured the votes they claim to have obtained?
Michigan Citizens for Election Integrity (MC4EI.com) reviewed thousands of hours of surveillance video obtained by The Gateway Pundit from 19 Detroit drop boxes for the November 2020 election. These videos covered a time span of 24 hrs a day for 37 days.
Numerous people were found taking pictures with their phones of themselves with their ballots as they were depositing them in the drop boxes. Or they would simply take a picture of the ballot as they dropped it in. Were they just proud Detroiters showing the world that they had voted or was it something more? Was it required for payment for the ballot they deposited into the drop box?
It was evident that many were trying to be surreptitious in the way they were taking their pictures so as to be out of view of the surveillance cameras. Phones were sometimes hidden close to their bodies or awkwardly in the palms of their hands. Some individuals had an accomplice walk up to the drop box with them and take a picture. Some had a person in their vehicle who took a picture of them. People were also recording the dropping off their ballots at the drop boxes and appeared to be facetiming with someone who seemed to be talking them through the process. People were observed to be scanning QR codes given to them on pieces of papers with their phones after dropping their ballots. There were a lot of photographers who obviously appeared to be professionals being paid to take pictures of people depositing their ballots and/or the drop boxes.
Many people observed that there were abundant postings on Facebook nationwide prior to the Nov 2020 election suggesting that people take pics of themselves and their ballots to show they were voting and to encourage others to do so. Was this truly a "promote the vote" effort or a coordinated effort to provide cover for real ballot traffickers? Everyone is taking pics, so nothing to see here!
The Detroit News reported on Nov 2, 2020, that "for the first time in a presidential election in Michigan, voters can show the physical proof of their participation in the election by posting a "ballot selfie", which had previously been banned. A court settlement was reached in 2019 which allowed voters to take a photo of their own ballots but only while they are within the voting booth.
This court settlement was the culmination after 3 yrs of a lawsuit brought by a citizen, Joel Crookston, against the state. In fact, the whole thing started off as a college prank. Crookston posted a photo of his ballot on Facebook in 2012 to show his friends that he had cast a write-in vote for a former college classmate in the race for Michigan State University trustee. They had always joked that his classmate would become "some big politician some day." Crookston asserted that he had a constitutional right to take "ballot selfies" and he therefore challenged the state's long-standing ban on voting station and polling place photography. Crookston acknowledged that the whole lawsuit was "kind of a silly thing, for sure" but since he felt the First Amendment was being encroached upon by government, it was justified. Really??!! Seems like there are a lot more important First Amendment issues that should be addressed such as stifling and censoring the free speech rights of conservatives.
So, the Secretary of State had to get involved. Ruth Johnson (R) was the SOS in 2016 and the Attorney General was Bill Schuette (R). Schuette, defending Johnson, said the Michigan law and policy was "justified by the state's long-standing interest in protecting the secrecy of the ballot and protecting those who seek to exercise their right to vote from distraction, harassment, or intimidation." It was under Democrat Jocelyn Benson's watch, however, that the settlement was reached.
There are still prohibitions on voters taking selfies of themselves either in the voting booth or anywhere within the area where people are voting or in the taking of any other type of photograph within the area where people are voting. Ballot selfies were promoted in order to encourage other people to vote and to proudly proclaim a person had voted. Maybe pride in voting would be seen for young, first-time voters, but older ones who had voted most likely for years? Taking pictures??
If that is the case, why do the surveillance videos indicate people often taking pics in a secretive, or on the sly manner? Why not tell the world you had voted with a big smile and in full view of security cameras? Why was the taking of many of the selfies so focused on demonstrating that the ballot was going in the drop box? Possibly, people were not familiar with the court settlement allowing them to take pictures of their ballots. But, it was observed that phone pics were not seen in large numbers until the last few days before the election. If it was just a case of "look Ma, I'm voting!" and if picture taking was done with ignorance of the new law, then why wouldn't all this photographing be seen all the way back to early October?
There were 37 days of early voting. Photographing using one's phone was seen for about 300 ballots. There were occasional spikes in phone pics prior to election day as well but definitely the highest numbers clustered around Nov 2 and 3.
True the Vote obtained information from the whistleblower, "John Doe," who was noted above, in Georgia regarding a network of NGOs that worked together to facilitate a ballot trafficking scheme. "John Doe" described a payment validation process which involved taking cell phone pictures of the drop box where ballots were deposited in order to be compensated, typically at a rate of $10 per ballot. He admitted to making $45,000 for stuffing ballot boxes. A VoterGA investigator released a video showing a man taking a phone picture of multiple ballots. He "fans out ballots, takes photos and places them in the drop box."
It is hard for ordinary, honest Americans to see anything other than a payment validation scheme involved in so many Detroiters taking pictures of themselves and their ballots at the drop boxes during the November 2020 election, regardless of how the leftist legacy media spins it. It is ironic that photo IDs seem to be necessary to illegally vote multiple times, but photo ID requirements for legal voting runs into a mountain of opposition from Democrats despite the fact that surveys and polls repeatedly demonstrate that most Americans, including rank and file Democrats, support the requirement for photo IDs in elections.
The mission of Michigan Citizens for Election Integrity is to investigate, expose, and disseminate what we find. Our conclusion? The November 2020 General Election was the "least secure election in history."
What do YOU see as you view these videos?